ABHISHEK MAHESHWARI aka 'HUMAN_AI' aka ENDBOSS
We were able to get up close and personal with the ecstatic winner. Check out the interview with the EndBoss himself, Abhishek Maheshwari!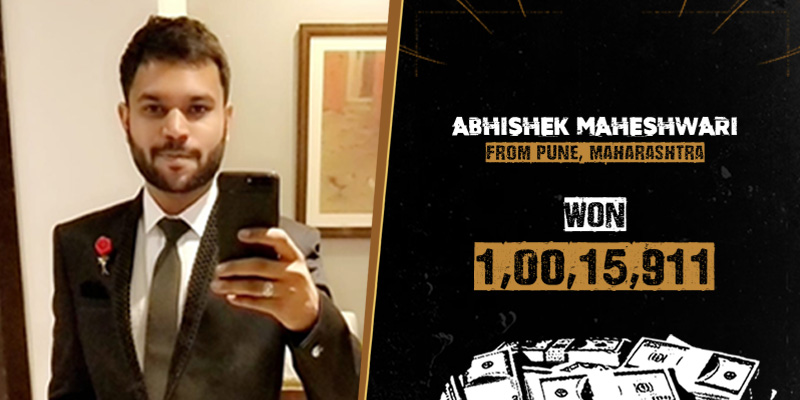 Q: First things first, congratulations! Let's soak in the moment of your victory. Take us back to that moment when you realised it was all real. Run us through your emotions.
A: First of all when the last hand ended, I had an anxiety attack and couldn't breathe, I couldn't believe my eyes with what was happening! Staring at the empty table for the next two minutes, I tried processing what I had just done! I didn't pinch myself but still wanted to make sure this was my reality and wasn't just a dream.
A few minutes after Varun Ganjoo, Marketing Director at Baazi Games, called me. I told him I might be on the verge of puking because I was so excited. Next, I called my family to let them know what had happened. No one believed me at first because I hadn't told anyone I was playing such a big tournament and it came as a shock to them. It took time for them to believe. I sent them some screenshots from the tournament and they finally believed me!
Q: When did you hear of EndBoss for the first time and what made you take the plunge with this online poker tournament?
A: I heard about PokerBaazi from a friend of mine. He mentioned that they were organizing some good tournaments and that I should look into them. Then I happened to see an ad for a 5-crore guarantee tournament. I considered exploring it further and discovered a deposit code that promised me a satellite ticket on depositing Rs.5000. So, I decided to take that offer up, deposited Rs.5000, got my satellite ticket. I always thought I could use the deposited amount for another satellite if the need arises.
Q: Satellite-ing into one of India's biggest online poker tournaments and then going on to claim the title must have been a roller coaster of a ride. Take us through your journey.
A: For the satellites, I decided to choose my spots wisely and go all in and that worked out pretty well for me. If I hadn't won the satellite my plan was to deposit Rs.11000 more, because opportunities like these don't come very often! I was lucky enough to win the ticket into flight 1D of EndBoss.
As the day approached, I do recall eating very light on Thursday and Friday because usually when I eat heavy I tend to doze off and I really wanted to be able to focus. I practice meditation and certain asanas help reduce my body's dependency on food and water and I'm able to concentrate better. So, I did my meditation, had two bananas and a bowl of cabbage and started playing the satellite. Things went well and I won a ticket to the EndBoss.
I also tried winning another satellite ticket just as a backup and that didn't go too well for me. So, I dropped it and decided to focus on 1D. I also prepared myself to deposit Rs.11000 if I had to go for a second bullet. Fortunately, that didn't happen.
After 1D, for Day2 I followed the same routine and tried getting in 8 hours of sleep. I meditated again and told all my friends that they'll be on 'dnd' and that I didn't want any calls from them. Fifteen minutes before the tournament started, I closed my eyes, focused on my breathing and worked on zoning into my Zen mode. I also have severe ocd and like to keep my surroundings clean, even the desk which I play on. Every piece fit right into this puzzle and I think I was lucky.
Q: Speaking of luck, do you think you have a Poker Charm that works for you?
A: I'm usually not superstitious. But this time I chose to be. I don't play cash games much and I play a few tournaments that have good guarantees. I often inform my friends that I will be taking part and can't play a round of PUBG with them but this time I decided not to. Reason being the last time I took part and bagged my first major win in a poker tournament, I hadn't told anybody.
Q: Despite being relatively new to the game, we are certain you went in with some kind of a game plan. What was your strategy?
A: On Day 1D, I mapped out the table for half an hour or so and observed how everyone was playing, noting down their playing styles. I colour coded the players, pink being aggressive and blue, passive. A player went all in with pocket 10s with 50BB, made a note and kept my eye on him as they are great players to target! I make my notes light and fun to read, otherwise poker can get stressful and people forget to have fun.
Q: Any poker hand that stood out like a sore thumb and you weren't too happy with how you played it?
A: Towards the end of 1D, last ten hands or something like that. I had a 2.5k stack. I went all in with A 2 just trying to pick up the blinds and I was called with pocket 8s. That was a big pot and I ended up losing 1L chips there and entered day 2 with a 1.5k stack. I was a bit disappointed with myself but I told myself it's fine and that I had to get back in the game. On the bright side, 1.5L wasn't too bad a stack to be entering Day 2 with.
Q: Surviving those felts, grinding long hours, what were your thoughts as you inched your way up towards the prize money?
A: I entered the Final Table in 6th or 7th position. My basic strategy throughout the tournament was to make it to the next pay jump. My first target was making Rs.50,000, after which I had my eyes on the 53rd spot that paid Rs.1,00,000 and that would cover my poker losses in general. Then I moved onto making it to the 35th place. I decided to play aggressive, stealing big blinds and as the number dropped to 37, I decided to play more passive and be more cautious to make it to the next pay jump.
It never crossed my mind that I'd win this. It did a few times honestly, but I continued focusing on my survival strategy of just getting to the next pay jump. While it did cross my mind, what I'd do if I won this, I never thought it would happen! There were 24 players left and I was in the top 7, at this point I thought it was quite doable and I could just be No.1. I knew a double up would make that possible and that's when the realisation hit me! By the time there were 22 players left, I was in the top 4. When there were six people left and I was in the chip lead I only felt closer to the first prize money and I knew I could make it!
Q: You were up against poker's best in India. You stood undeterred till the very end. What kept you going?
A: My table sounds were off because I was listening to some music. I usually listen to music when I play. It completely depends on how I'm playing, if I'm being aggressive, I tune into some psychedelic music. When I take on a more passive role and want to remain calm, I listen to some instrumental piano music. For the EndBoss in specific I choose some concentration music, similar to a classic Beethoven set. The pace of this music also helps me re-engineer my thought process in the game.
Then I suddenly realised there was a lot going on in the chat and there were so many people rooting for me! I was the only amateur on the table up against some world class poker players. A lot of people who didn't know me were also supporting me and that really gave me some confidence. That kept me going.
Q: A Crorepati overnight! Certainly, it seemed a distant dream. Now that you're living it, tell us how you plan on spending it.
A: One thing's for sure, after the tax deductions, I've decided to contribute 10% of my winnings towards migrant workers who are suffering during the outbreak of this pandemic. A decision I had made prior to the tournament irrespective of the amount I won.
I honestly didn't think I'd win the tournament and was thinking if the 10% amounted to even Rs.5000, I'll contribute towards the cause. I'm so glad that I won the tournament and the 10% will certainly make a difference and change lives. The contribution will be in honour of my father who I'm sure will be very super proud of me today.
I also hope to pump in some capital to my new business venture. It certainly will help me get my products on the shelf sooner.
Q: With the poker community welcoming you with open arms, they want to know more about the 'EndBoss'. Tell us a little more about yourself.
A: I did my engineering for the sake of it! I got my degree from Pune University, B.E Mechanical, and I knew I did not want to work in that field, I wanted to start my own business. Then I worked in my family business for some time. We are into manufacturing insecticide chalk sticks and this was set up by my father about 30 years ago. I gained some experience and always wanted to do something on my own. So, I came back to Pune to set up a fruit pulp business.
We are currently in the preservation process and it's in the trial phase where we are testing the shelf life of the product. I've designed the packaging myself and finally put my degree to some use!
Q: Poker often falls in the grey area for friends and family. Did you have any trouble there when you decided to play this tournament?
A: With my close family, I think I pretty much convinced them that poker is a skill-based mind sport by helping them understand the difference between games of luck and games of skill. It did take me some time to make them understand, but I think I have good convincing skills.
The proof in the pudding was the 4th place finish for Rs.60,000/- in an event once and that certainly gave the liberty to dwell into poker a little more. My family has been very supportive like that and have always encouraged me to do my own thing, despite having a family business.
Q: Take us back to your yester-days of poker. How did it all begin?
A: In 11th grade, a junior introduced me to poker in a house game with a Rs.100 buy-in. I used to be that guy who used to get lucky at all these games. In college the frequency reduced, I played very occasionally with a few friends.
Cut to 2018, when a friend told me he started playing poker online for real money and he managed to run up Rs.500 to Rs.2,500. So, I thought I'd give it a shot! It was very mesmerizing to me at that time that you can play poker online for money. That's when I learnt the game correctly in 2018.
I watched a lot of online videos and used YouTube as my mentor. There's a lot of content available and if someone puts their mind to it, it's all possible. I discovered my passion for the sport when I realised I could sit through a 12-hour EPT video!
Q: Now that you've got a taste of poker glory, do you see yourself pursuing the mind-sport professionally?
A: I have started doing my research on how professional poker players do this for a living. It was crazy when I discovered the hard work that goes behind it with pros playing 24 tables at a time, when I could barely manage 2 or 3! I thought I'd never be able to be a winning player at this rate. But that's when I realised I'm not a cash game person and more of a tournament player. The best thing I like about tournaments is that at the end there's only one winner taking home that first prize. I think I'd like to focus on playing low-stakes tournaments and not sit on high-stakes tables because I have the money now. Let's see where this takes me!
Q: You might just be the 'Chris Moneymaker' of India. You potentially could be setting off the Moneymaker domino effect. What's your word of advice for newcomers?
A: Don't enter poker just because you think you can make a quick buck. Take time out to learn the game, watch videos online and learn from the pros. Observe their strategies and think about the skill set the game requires.
Q: Having gotten a sneak peek into Indian Poker, what do you think of the game's future?
A: Indian poker has a long way to go. A lot of people are realising the potential of it. The awareness is certainly growing, people are realising it's a game of skill. That's a great sign and I really hope to see the poker community flourish in India.
Q: PokerBaazi is proud to crown its latest winner. Any message for the team that made this all possible?
A: 5847, I've never seen a turnout like this in a tournament. I would like to thank everyone at PokerBaazi! I really liked the design of the app, I particularly like the BB count that's on the screen, it's a very useful tool to have despite knowing I can calculate it. The table design is also very soothing to the eye and I hope to be playing more tournaments on it. PokerBaazi acts as a great platform for new poker players to showcase their talent and I certainly hope they have more tournaments lined up! Everyone on the team has been so nice and kind to me and you can really feel it when people genuinely want to help you and this team made me feel at home with this experience.
Until next time Abhishek! Stay safe and we hope to see you blazing the Baazi felts with more such victories!