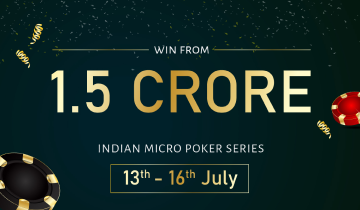 Overview
How It Works
Terms & Condition
Now enjoy 100% tax-free withdrawals all through May! Simply play your favourite cash games during the TDS Carnival and earn as many Reward Points (RP) as you can.
For every point generated, you will be eligible for ₹100 tax-free withdrawal, applicable all the way up to a withdrawal amount of ₹20 LAC. This TDS Bonus stacks with our existing website TDS policies, making each minute of your grind count!
ExtraRush
Ullamco officia ex mollit cupidatat aliquip ut voluptate sit officia consectetur. Deserunt id dolor ipsum sunt elit ipsum
SuperDeal 400
Make your 1st deposit & get 100% Bonus and earn a Maximum Bonus of Upto Rs 2500!
How it Works
1 RP = ₹100 tax-free withdrawal || 20,000 RP = ₹20 LAC tax-free withdrawal.
Bonus will be provided as Real Cash Bonus. Maximum TDS Bonus that can be claimed = ₹ 6 LAC RCB.
Bonus is calculated with the following priority at the time of withdrawal:
TDS bonus applicable on RP generated.
Regular TDS bonus applicable up to ₹30,000 in a financial year.
RCB will be credited automatically as soon as the withdrawal request is approved in the system.
Example
Let's say you deposit ₹20,000 and generate 400 RP and winnings of ₹2.5 LAC.
This places the total amount in your account at ₹2.7 LAC. If this is your first withdrawal, and you withdraw the entire amount, your TDS will be calculated accordingly:
Total withdrawal = ₹2,70,000
Total amount that TDS is applicable on = ₹2,40,000
TDS to be paid: ₹72,000
When you make your withdrawal, TDS of 72,000 will be deducted.
However, this amount will be refunded as RCB in the following manner:
Bonus under TDS Carnival = 30% of (400 RP X ₹100) = ₹12,000
Bonus under the regular TDS Policy = ₹30,000
Total TDS Bonus = ₹42,000
You can quite plainly see the positive impact the TDS Carnival will have when making withdrawals.
It's important to remember though that the existing benefit of 100% bonus upto 30K is only applicable ONCE! If you have already withdrawn and claimed that bonus, then TDS bonus will only be provided on the basis of RP generated. That's about it. Now it's time to hit the felts!
Terms & Conditions
Reward Points generated prior to the promotion will not be eligible for TDS Bonus.
TDS Bonus will be applicable only on winnings, not on earnings through commission.
If no Reward Points are generated during the promotion, then normal TDS bonus will be applicable on winnings.
The generation of the Reward points will be applicable only till the last day of the promotion.
User must withdraw the eligible amount against RP within 2 weeks of the closure of this promotion.
Once the TDS Bonus has been claimed, RP generated will be deducted equivalent to the amount claimed in the withdrawal ledger sheet.
PokerBaazi holds the right to modify/terminate the promotion at any given time.
A player can be disqualified from the promotion if found guilty of any misconduct as per the rules on PokerBaazi.com.