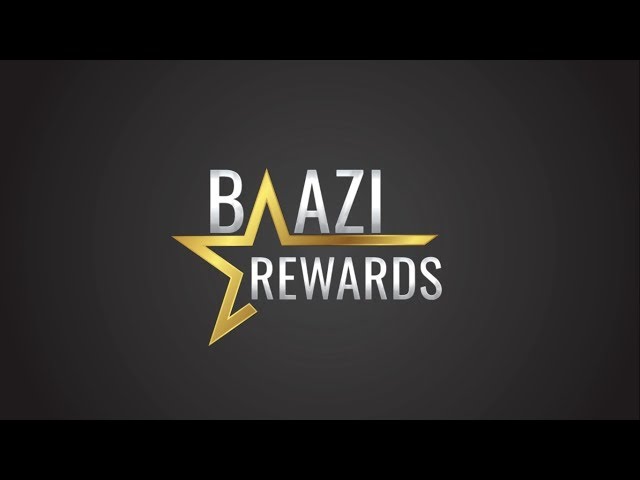 Baazi Rewards is an innovative and unique loyalty rewards program which gives back maximum benefits to a player and that too as per the player's choice. PokerBaazi.com, with this rewards program, has taken its tradition of giving back to the players to a level never seen before. A player can now choose to go for grand prizes, the list of which includes what not - from real cash prizes to international packages to the most sought after poker destinations in the world like Vegas & Australia, ICC World Cup packages, Bahamas Island, Cruise, iPhones to supercars like a Jaguar!! Alternatively, a player can also go for a direct Cashback.
The grand prizes are covered under LOYALTY REWARDS PROGRAM and direct Cashback comes under the CASHBACK PROGRAM. To be eligible for any of these programs, one needs to earn Reward Points, which are auto generated as and when you play cash games.
Jaguar XF-2.0 Diesel Pure
Toyota Fortuner 2.8 4WD AT
Vegas Package Worth 25 LAC
BIG 4 International Poker Tour
Grand Bahama Island Cruise For 2
ICC World Cup 2019 Package
100000 Real + 100000 Bonus Prize
Goa Package + 1.5 LAC Real Cash (Available till 30th Nov'18)
iPhone Xs Max (4GB, 64GB)
Samsung Galaxy S9 Plus 6GB RAM (Midnight Black, 64 GB)
Tickets to Daily 8 PM majors (Mon-Sat) + BSS 15 LAC
The Endeavour + The Vegas
6-Max Boost DST 1 LAC GTD (RE)
Understand How LOYALTY REWARDS PROGRAM works
There are multiple Levels in Loyalty Rewards Program. Each Level requires certain Reward Points to get unlocked and has a unique prize in the offering.
You can target any Level individually and do not necessarily need to claim previous levels before claiming a level. (For example, you can claim the Level 5 prize even if you haven't claimed Levels 1, 2, 3 & 4. But this is provided you have sufficient Reward Points required to claim Level 5.) Each level can be claimed only once in a calendar month.
How Reward Points are calculated. Know More
Unlimited time period
This is what makes Loyalty Rewards Program the grandest and most rewarding program ever. The Reward Points, unless claimed, remain valid for unlimited time frame, which means you can actually choose your target Level and go for it. Your Reward Points balance will reduce only if you haven't played for over 30 consecutive days. Please check the Terms & Conditions for details.
Benefits & Premium Levels
In this program, you will earn 20% to 50% cashback in the form of grand prizes. Among the Levels, there are some Premium Levels which offer the maximum benefits.
How to claim prizes
It's very simple! As soon as you have earned the requisite number of Reward Points for a Level, it will show you an option to 'Claim' the prize. The prizes at various Levels include Real Cash Chips, Real Cash Bonus, Tournament Tickets, Gadgets, International Poker Travel Packages & Luxury Cars. Once you hit the 'Claim' button, Real Cash prizes and Tournament tickets will be auto credited to your PokerBaazi account. For other prizes, you will receive an intimation from PokerBaazi Team via email.
DEFAULT PROGRAM: Loyalty Rewards Program
SWITCHING Between Programs: Switching from Loyalty Rewards Program to Cash Back or vice-versa is only allowed once in a calendar month. Once you switch, your Reward Points will be reset to zero. (For example, if you switch to Cash Back in the month of August, you can switch back to Loyalty Rewards Program only after 1st September.)