Cash Battle Royale 4.0
Info
HOLDEM
PLO-4, PLO-5 & PLO-6
Terms & Conditions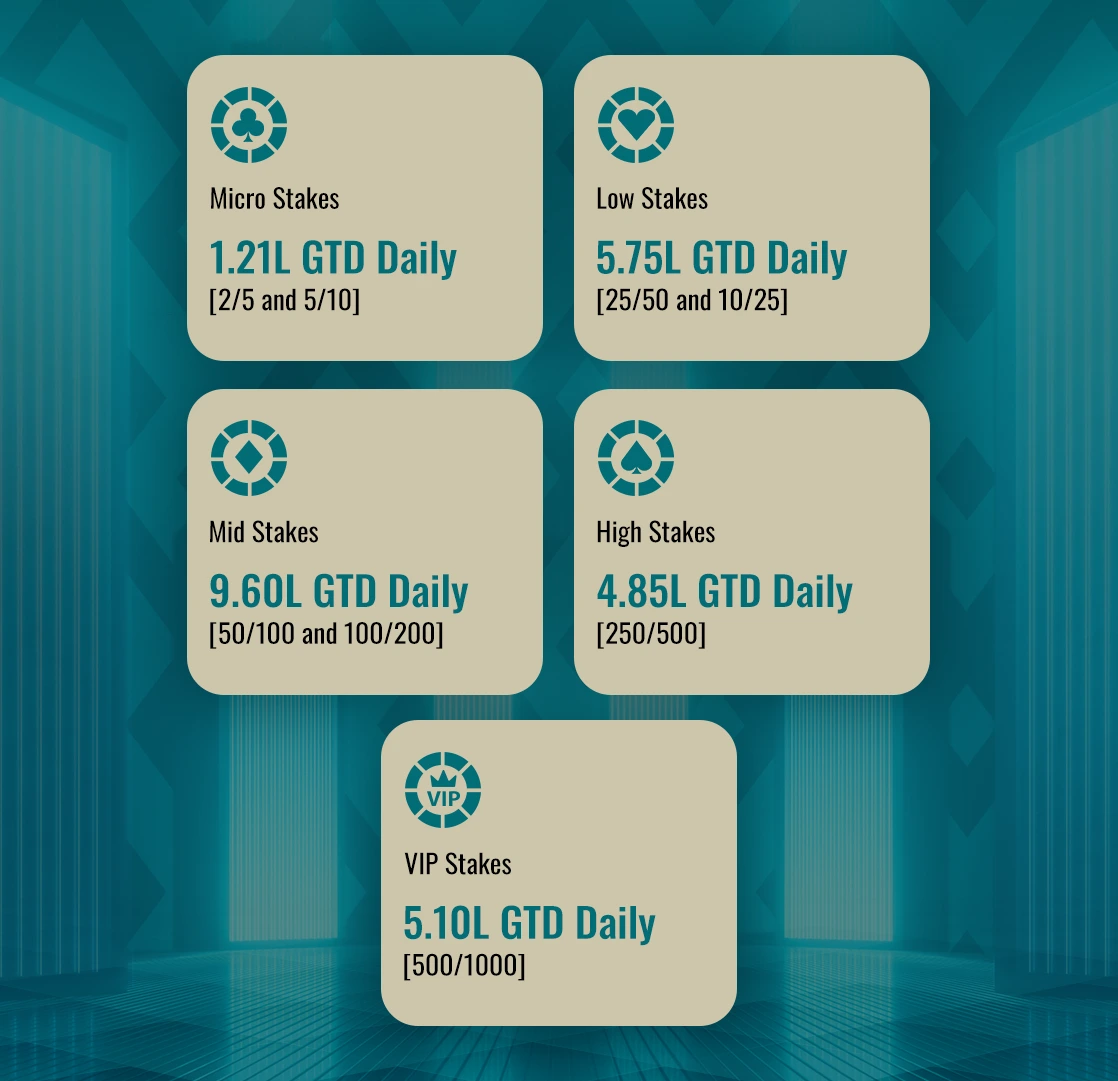 Micro (2/5 and 5/10)
| Time | PrizePool | Places Paid |
| --- | --- | --- |
| 12AM - 1:30AM | 7000 | 150 |
| 1:30AM - 3AM | 4500 | 80 |
| 3AM - 4:30AM | 3500 | 75 |
| 4:30AM - 6AM | 3000 | 70 |
| 6AM - 7:30AM | 2000 | 50 |
| 7:30AM - 9AM | 2000 | 50 |
| 9AM - 10:30AM | 3500 | 70 |
| 10:30AM - 12PM | 4000 | 75 |
| 12PM - 1:30PM | 4000 | 75 |
| 1:30PM - 3PM | 4500 | 80 |
| 3PM - 4:30PM | 4500 | 80 |
| 4:30PM - 6PM | 4500 | 80 |
| 6PM - 7:30PM | 4500 | 80 |
| 7:30PM - 9PM | 4500 | 80 |
| 9PM - 10:30PM | 4500 | 80 |
| 10:30PM - 12AM | 7000 | 150 |
Low (25/50 and 10/25)
| Time | PrizePool | Places Paid |
| --- | --- | --- |
| 12AM - 1:30AM | 25000 | 100 |
| 1:30AM - 3AM | 16000 | 80 |
| 3AM - 4:30AM | 12000 | 75 |
| 4:30AM - 6AM | 7000 | 40 |
| 6AM - 7:30AM | 7000 | 50 |
| 7:30AM - 9AM | 15000 | 60 |
| 9AM - 10:30AM | 15000 | 60 |
| 10:30AM - 12PM | 15000 | 75 |
| 12PM - 1:30PM | 16000 | 75 |
| 1:30PM - 3PM | 16000 | 75 |
| 3PM - 4:30PM | 16000 | 75 |
| 4:30PM - 6PM | 15000 | 75 |
| 6PM - 7:30PM | 16000 | 75 |
| 7:30PM - 9PM | 17000 | 80 |
| 9PM - 10:30PM | 17000 | 80 |
| 10:30PM - 12AM | 25000 | 100 |
Mid (50/100 and 100/200)
| Time | PrizePool | Places Paid |
| --- | --- | --- |
| 12AM - 1:30AM | 50000 | 125 |
| 1:30AM - 3AM | 35000 | 75 |
| 3AM - 4:30AM | 25000 | 60 |
| 4:30AM - 6AM | 17000 | 50 |
| 6AM - 7:30AM | 15000 | 50 |
| 7:30AM - 9AM | 15000 | 50 |
| 9AM - 10:30AM | 20000 | 50 |
| 10:30AM - 12PM | 20000 | 60 |
| 12PM - 1:30PM | 25000 | 60 |
| 1:30PM - 3PM | 25000 | 60 |
| 3PM - 4:30PM | 25000 | 60 |
| 4:30PM - 6PM | 20000 | 60 |
| 6PM - 7:30PM | 23000 | 60 |
| 7:30PM - 9PM | 25000 | 60 |
| 9PM - 10:30PM | 35000 | 75 |
| 10:30PM - 12AM | 50000 | 125 |
High (250/500)
| Time | PrizePool | Places Paid |
| --- | --- | --- |
| 12AM - 4AM | 50000 | 40 |
| 4AM - 8AM | 30000 | 30 |
| 8AM - 12 PM | 25000 | 20 |
| 12PM - 4PM | 35000 | 35 |
| 4PM - 8PM | 35000 | 35 |
| 8PM - 12AM | 50000 | 40 |
VIP (500/1000)
| Time | PrizePool | Places Paid |
| --- | --- | --- |
| 12AM - 4AM | 50000 | 35 |
| 4AM - 8AM | 35000 | 30 |
| 8AM - 12 PM | 20000 | 20 |
| 12PM - 4PM | 40000 | 30 |
| 4PM - 8PM | 40000 | 30 |
| 8PM - 12AM | 50000 | 35 |
Micro (2/5 and 5/10)
| Time | PrizePool | Places Paid |
| --- | --- | --- |
| 12AM - 1:30AM | 6000 | 80 |
| 1:30AM - 3AM | 4500 | 50 |
| 3AM - 4:30AM | 3000 | 40 |
| 4:30AM - 6AM | 2000 | 30 |
| 6AM - 7:30AM | 2000 | 30 |
| 7:30AM - 9AM | 2000 | 30 |
| 9AM - 10:30AM | 2500 | 30 |
| 10:30AM - 12PM | 2500 | 30 |
| 12PM - 1:30PM | 2500 | 30 |
| 1:30PM - 3PM | 3000 | 35 |
| 3PM - 4:30PM | 3000 | 35 |
| 4:30PM - 6PM | 3500 | 40 |
| 6PM - 7:30PM | 4000 | 40 |
| 7:30PM - 9PM | 3000 | 40 |
| 9PM - 10:30PM | 4500 | 45 |
| 10:30PM - 12AM | 5500 | 75 |
Low (25/50 and 10/25)
| Time | PrizePool | Places Paid |
| --- | --- | --- |
| 12AM - 1:30AM | 45000 | 90 |
| 1:30AM - 3AM | 30000 | 75 |
| 3AM - 4:30AM | 20000 | 40 |
| 4:30AM - 6AM | 12000 | 35 |
| 6AM - 7:30AM | 8000 | 35 |
| 7:30AM - 9AM | 7000 | 40 |
| 9AM - 10:30AM | 10000 | 40 |
| 10:30AM - 12PM | 15000 | 50 |
| 12PM - 1:30PM | 15000 | 50 |
| 1:30PM - 3PM | 15000 | 50 |
| 3PM - 4:30PM | 15000 | 50 |
| 4:30PM - 6PM | 15000 | 50 |
| 6PM - 7:30PM | 18000 | 60 |
| 7:30PM - 9PM | 20000 | 75 |
| 9PM - 10:30PM | 30000 | 75 |
| 10:30PM - 12AM | 50000 | 90 |
Mid (50/100 and 100/200)
| Time | PrizePool | Places Paid |
| --- | --- | --- |
| 12AM - 1:30AM | 60000 | 120 |
| 1:30AM - 3AM | 40000 | 70 |
| 3AM - 4:30AM | 40000 | 70 |
| 4:30AM - 6AM | 15000 | 35 |
| 6AM - 7:30AM | 15000 | 35 |
| 7:30AM - 9AM | 15000 | 35 |
| 9AM - 10:30AM | 20000 | 45 |
| 10:30AM - 12PM | 30000 | 55 |
| 12PM - 1:30PM | 30000 | 55 |
| 1:30PM - 3PM | 35000 | 55 |
| 3PM - 4:30PM | 35000 | 55 |
| 4:30PM - 6PM | 30000 | 55 |
| 6PM - 7:30PM | 35000 | 70 |
| 7:30PM - 9PM | 35000 | 70 |
| 9PM - 10:30PM | 40000 | 80 |
| 10:30PM - 12AM | 60000 | 120 |
High (250/500)
| Time | PrizePool | Places Paid |
| --- | --- | --- |
| 12AM - 4AM | 60000 | 40 |
| 4AM - 8AM | 35000 | 35 |
| 8AM - 12PM | 30000 | 35 |
| 12PM - 4PM | 35000 | 35 |
| 4PM - 8PM | 40000 | 35 |
| 8PM - 12AM | 60000 | 40 |
VIP (500/1000)
| Time | PrizePool | Places Paid |
| --- | --- | --- |
| 12AM - 4AM | 70000 | 25 |
| 4AM - 8AM | 30000 | 16 |
| 8AM - 12 PM | 25000 | 15 |
| 12PM - 4PM | 45000 | 22 |
| 4PM - 8PM | 40000 | 22 |
| 8PM - 12AM | 65000 | 25 |
No opt in required.
All winnings will be credited in the players poker wallet as Win Balance.
Each player will get paid from the prize pool based on his/her total contribution towards it in the form of coins.
Only coins generated on relevant Cash Tables will be counted towards the promotion.
PokerBaazi holds the right to modify or terminate the promotion at any time.
A player can be disqualified from the promotion if found guilty of any misconduct or fraudulent activities such as multi-accounting, chip dumping etc. found to be violating the PokerBaazi.com policy. The final decision will be at the discretion of the PokerBaazi team.
By taking part in this promotion, you agree to allow PokerBaazi to share your name, username and images to social media and third party media channels.
Super Hold'em is part of the Hold'em category in the cash game leaderboards.