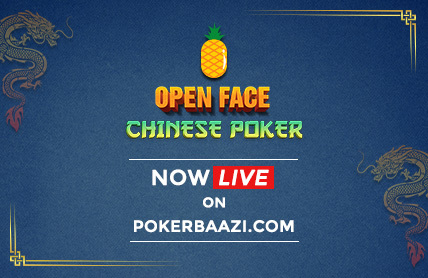 Pineapple Open Face Chinese (OFC)
Pineapple OFC is an exciting variant of Texas Hold'em, but is not quite the same game. While the rules (hand ranking) are the same, the set-up is slightly different. It is a widely preferred game amongst both professionals and recreational players primarily because a) it is a relatively quick game to learn and play, and b) this game depends purely on math and strategy – no bluffs or 'pokerfaces' involved!
Explore More
OFC is a game based purely on numbers – math, equity, outs. This removes the 'human elements' such as bluffing, which means that you can master the game by studying and understanding the rules and your odds.
It is a relatively new game in the Indian market, which means that there aren't too many sharks out there!
Once the game is learnt, there is no particular edge that a pro will have over a recreational player who understands the game equally well.
It is a relatively fast game.
Being a calculation-based game like chess, OFC is a great way to keep you mind sharp!
Ticket won through a Satellite tournament for a particular Day1 flight cannot be exchanged for alternate Day1 flights. For example: If you win a ticket of Day1A through a satellite, it cannot be exchanged for Day1B, Day1C and Day1D.
Ticket won through a contest or any other promotion for a particular Day1 flight cannot be exchanged for alternate Day1 flights. For example: If you win a ticket of Day1A through a contest, it cannot be exchanged for Day1B, Day1C and Day1D.
Multiple satellite wins will result in single registration to the tournament(s). Multiple satellite wins can be reimbursed by emailing

This email address is being protected from spambots. You need JavaScript enabled to view it.

only if the satellite has no overlay. In the case of an overlay, the satellite buy-in will be refunded. Reimbursement will be done within 24 working hours.
If you win a satellite to any of the above events, you will be directly registered to the tournament. If you then use a deposit code, the ticket from such code will not be valid and cannot be used or refunded.
If you use a deposit code or win ticket through any other promotion and then win a ticket through a satellite, the ticket from satellite can be reimbursed by emailing

This email address is being protected from spambots. You need JavaScript enabled to view it.

only if the satellite has no layover. Reimbursement will be done within 24 working hours.
If you have used multiple tournament ticket codes (of different tournaments), the withdrawal criteria for all will be added up for eligibility. The criteria will be cancelled in case you reach zero account balance.
PokerBaazi.com reserves the right to change the terms and conditions without prior notice.